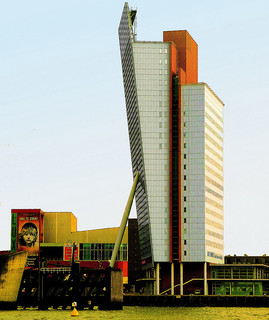 Despite a whole bunch of bad jokes about the Netherlands' second city, Rotterdam, it is often praised in the foreign press or in Wallpaper magazine, mainly for its modern architecture.
In this video, the city's best know poet and jazz fan Jules Deelder sarcastically says, "I swear to you, Rotterdam can't be filmed. It has no past and not a single stair-step gable," echoing the opinion of many who think Amsterdam is top dog and Rotterdam must be treated like a less posh younger sibling who tries to mask their bombarded past by going modern.
The Willemswerf is the name of the office building martial arts star Jackie Chan slides down in his 1998 film 'Who am I', which has some excellent shots of parkour-like action in Rotterdam. Apparently, when asked back in 1999, Chan put it on his list of 10 favourite stunts, which can be read in his book 'I Am Jackie Chan: My Life in Action'. Oh, and he performed that stunt himself by the way like he did so many others.
Even though one of his stuntmen proved it could be done from a lower level, it took Chan two weeks to get up the nerve to try it himself. The sequence begins with him fighting it out with some thugs on the top of a very tall building in Rotterdam. After battling with them around the roof, and nearly falling off once or twice, he finally took the quickest possible trip to the sidewalk below –sliding down the side of the building, which is slanted nearly 45 degrees, all the way to the ground. Twenty-one stories."
At least Rotterdam has 21-storey buildings.
The movie also prominently figures the 'koopgoot' (underground shopping area), the cube houses and the Erasmus bridge. He also tries using a recumbent bike, a stunt in itself.
(Photo of Rotterdam, KPN building by Roel Wijnants, some rights reserved)