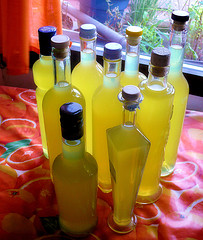 Two Dutch brothers with Italian blood started producing limoncello according to an old family recipe. Limoncello Di Fiorito was born, a hand made exclusive limoncello made with premium organic lemons. Apparently, it is "the authentic production method that gives this exclusive limoncello its refined and original flavour."
For people living outside the Netherlands, you can even order Di Fiorito Limoncello from a Dutch jeweler (!).
(Link: nu.nl, Photo of Limoncello by Shamballah, some rights reserved.