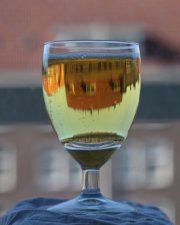 Every country seems to have different guidelines as to what people should and should not drink. In the Netherlands last year, 4 out of 10 Dutch people heeded the advice of the Dutch Health Council to not have more than one glass (no idea of the quantity or the unit) of alcohol a day.
Last year some 80.4% of all Dutch adults drank alcohol, with highly educated men drinking the most. Out of the highly educated, 7 out of 10 Dutch people didn't follow the Health Council advice, while for folks with a lower level of education, it was 5 out of 10. The older Dutch people are, the more they follow the council's advice.
Dutch men drink more excessively on a regular basis than women: 14 glasses a week for women and 21 for men. Again, no clue how much alcohol is in a glass. Heavy drinking is seen as at least 4 glasses a day for women and 6 glasses a day for men. Four or even six glasses is a night down the pub for me, but then not every day or even every week or month.
According to this illustration, the excessive drinkers are aged 20-24 and 65-74, while the heavy drinkers are 20-24 followed by 18-19. I'm guessing the older ones are retired – good on them.
I drink less than I used to, but I have to say the cheap price of alcohol in general lets me drink more than I did in Canada. You can buy half a litre of beer for € 0,50 and a litre of wine for € 1,50. Granted, it's not the good stuff.
(Link: foodlog.nl)