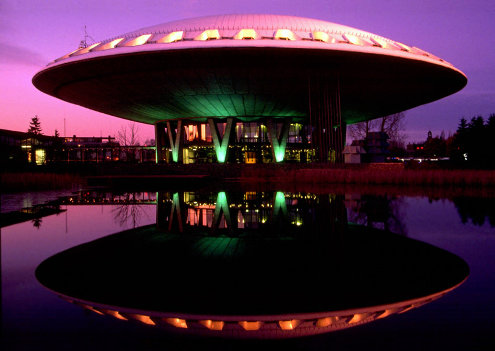 One of the most remarkable buildings of Eindhoven is the former science museum Evoluon. The building was designed by architect Leo de Bever who died last Friday, and 'light architect' Louis Kalff.
De Bever came from a family of architects responsible for many buildings in Eindhoven. He worked on banks, hospitals and schools all over Noord-Brabant. De Bever studied architecture at the Academie voor Bouwkunst in Tilburg and at Cornell University, Ithaca, USA. In 2007 he and his brother Loed sold their architecture business to Leo's son Stefan and to Heleen van Heel.
The Evoluon building housed Philips' science museum from 1966 to 1989. When Philips started with cutbacks in the 1980s, Evoluon was, as a non-essential part of the home electronics giant, a logical victim. Keeping the exhibit up-to-date was considered costly and was highlighted as an important reason to close the museum. Since then Evoluon has operated as a conference center, but its lasting futuristic appeal has not gone unnoticed. In recent years, Evoluon was home of Kraftwerk concerts, Tedx conferences and science exhibitions.
De Bever died aged 85.
(Photo by Daniel Volmer, some rights reserved)