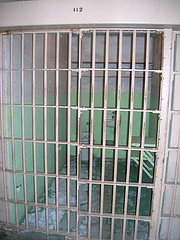 The Dutch have made hotels out of tree tents, quaint Dutch houses and even key cards. Now it was time to turn being stuck in a room into a real hotel experience.
Het Arresthuis in Roermond, Limgburg is a Dutch luxury hotel in a building that was a jail for more than 150 years. Guests at the hotel can stay in jail cells or, for a more luxurious experience, the warden's quarters.
Part of the Van der Valk hotel chain, Het Arresthuis had been abandoned for years, but was reopened in 2002 as an emergency facility for 'body stuffers', people who smuggle hard drugs into the Netherlands by ingesting them.
(Link: laughingsquid.com, Photo by Ken Mayer, some rights reserved)