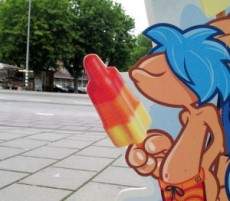 The town of Maarssenbroek, Utrecht is being intimidated by the local ice cream man and the story reads like a creepy Halloween tale.
The ice cream man rings his bell at night, drives too fast and gives children ice cream to then push their parents to pay for it. He's also been cited for a lack of hygiene and ringing doorbells of former clients. He even dares sell ice cream on Sundays, which pisses off certain folks who still think Sunday is actually mentioned in the Bible as a day of rest.
Some say it's the people pissed about the Sunday who are fueling the discussion and make life difficult for an ice cream man trying to make a living, others including parents of ice cream interested children say the guy's antisocial and has to go.
Why anybody would be selling ice cream in pouring rain with 15-16 degrees at the moment is beyond me.
(Link: www.rtlnieuws.nl, Photo of unrelated Dutch rocket ice lolly)
Tags: ice cream, Maarssenbroek, Utrecht