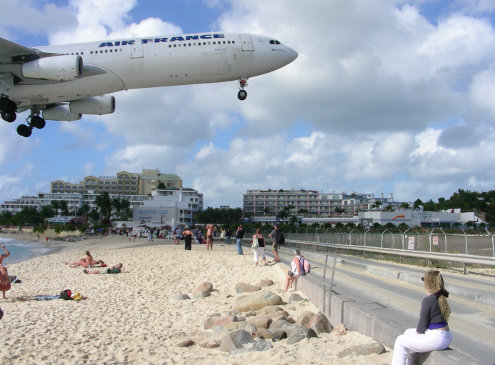 A popular tourist activity on the Caribbean volcano island of Sint Maarten is fence surfing.
As you can see in the photo the runway of Princess Juliana International Airport starts right behind Maho Beach. Fence surfing is holding on to the fence that separates the runway from the beach and waiting for planes to take off in order to experience the jet blast.
In 2000 a Swiss woman by the name of Hartmann was blown onto a rock and injured. Instead of accepting that exposing yourself to the forces of a Boeing 747's engines may not be the smartest thing she could have done, she sued the airport. Part of her complaint was that the signs which read "Warning! Low flying and departing aircraft blast can cause physical injury!" weren't clear enough. Dutch courts usually have little patience with stupidity and so the complaint was rejected.
Mrs Hartmann took the case all the way to the Dutch Supreme Court which surprisingly agreed with her on the issue of signage. In what came to be known as the Jet Blast Decision the Supreme Court argued that "in order to decide if a warning can be considered a sufficient protection against a certain danger, it has to be determined if the warning will lead to either an action or the abstinence of an action that will avert the danger".
The sign has been changed since then. Law professor Edgar du Perron points out in a recent online lecture at Universiteit van Nederland (a cross between MIT OpenCourseWare and TED Talks) that a further problem, one the new sign shares with the old one, is that the sign is attached to the fence—when people see warning signs attached to fences, they assume that the danger is on the other side of the fence.
Recently a curb was added to the beach because the jet blasts were eroding it. Although this prevents tourists from slamming into the rocks directly behind the wall, these days the tourists slam into the wall (warning: graphic video and stupid comments).
(Photo by Alljengi, some rights reserved)