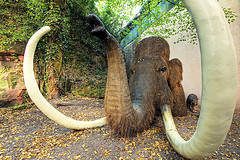 Online auction site Catawiki has all kinds of stuff up for grabs, and as of last weekend, there's a Dutch person selling off a complete mammoth skeleton.
According to the auction site, there are seven complete mammoth skeletons in the Netherlands, and this was the only one not owned by a museum. Originally found in the North Sea, the bones are not from the same mammoth, and were carefully collected over time. The skeleton is 3.2 metres high and 5.5 metres long, with 270 bones and two tusks that are three metres long.
Catawiki expects the skeleton to fetch between 200,000 and 260,000 euro. As of last weekend the highest bid was 35,000 euro.
UPDATE: A German museum that wishes to remain anonymous has bought the skeleton for 120,000 euro.
(Link: nos.nl, Photo: Wolfgang Staudt, some rights reserved)