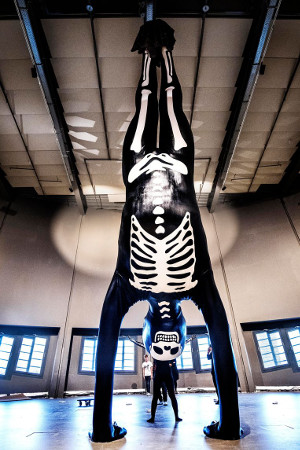 The NEMO Science Museum in downtown Amsterdam has recently bought and installed a 8.5-meter-high statue by Dutch artist Florentijn Hofman.
It wasn't easy to install: the artwork, A Handstand, modelled after Hofman's 11-year-old son, took 20 people to install and acts as a centrepiece for the museum and its new exhibition, Humania, about humans, to open on 23 November. Only then will people be able to admire the artwork in person.
A Handstand shows the world upside down. Made of lycra, the skeleton can be see on the outside as a costume, while the child is inside (not the real one). There's also a lot of detail in the muscles and bones of the body, so that it really looks like how a boy would tense his muscles when doing a handstand. The whole thing weighs 400 kilos and needed four stories of space indoors to be able to install it properly.
(Link: nemosciencemuseum.nl, Photo: parool.nl)