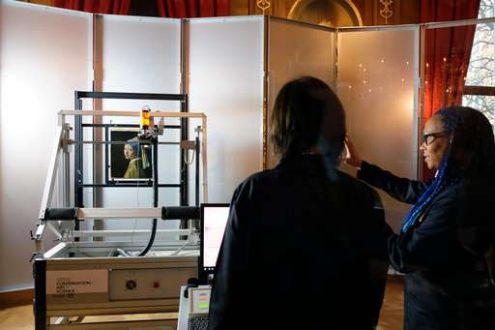 As hinted to in an article about using the Rijksmuseum's scanner to catch baddies, the Mauritshuis museum in The Hague will be using a Macro-X-ray Fluorescence scanner (MA-XRF) scanner to analyse Vermeer's 'Girl with a Pearl Earring' next week, to find out more about the painting.
And lucky us at 24oranges HQ, we'll be there and bring back photos if we're allowed to take any, as we have 'a man on the inside'.
Nicknamed 'the Dutch Mona Lisa', Vermeer's iconic painting was last studied in 1994 during a conservation project. In those days, they had to take paint samples from the priceless work to examine it, something that doesn't have to be done any more thanks to technology. Scanners and X-ray machines don't even need to touch the surface of the canvas and can provide new insights into how Vermeer painted the girl and the materials he used.
Whether her earring is a pearl (I'm in the 'no' camp) or some shiny trinket and whether or not the girl had some sort of connection with Vermeer is still a matter of speculation.
(Link and photo: phys.org)