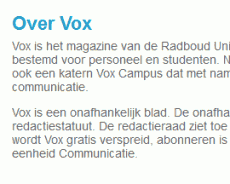 The effects of the vegetarian pseudo-scientific smear campaign against meat eaters keep spreading like an oil spill. Professor Roos Vonk (pronounced Rose Vonk) from the Radboud University in Nijmegen seemed to be little more than a victim of her Tilburg colleague Diederik Stapel at first, but when it turned out that she herself is a vegetarian (most of the time) people started wondering if perhaps her own research was skewed by her preferences.
Vonk denied this, although later she bravely admitted that it was justified for people to harbour suspicions. Vonk's alma mater's academic integrity committee has since started looking into her possible involvement.
And now the university is making itself look bad by censoring its own internal weekly magazine, the 'competing' student-run magazine ANS reports. The weekly, called Vox, was not allowed to publish a column that mused about how the academic community could learn from the mistakes that were made. Spokes person Willem Hooglugt told ANP last Tuesday that "we maintain radio silence, both internally and externally. This is a conscious choice. When we allow dissent [sorry, my bad—ed.] discussion, objectivity could suffer, and we wish to avoid that."
This excuse would not emanate the stench of a blatant cover up if Vox did not proudly proclaim on its website's front page that it is independent, and that its independence is anchored by both an editorial charter and an editorial council (see illustration). Needs more cowbell, that page.
Disclaimer: I myself studied at Radboud University back when it was still the Roman-Catholic University of Nijmegen, and wrote for ANS. The university often came across as deeply conservative, parochial, and surprisingly distasteful of students. (Example of the latter: the dining hall was regularly checked for people that should not be there, i.e. people who were neither student nor university employee. Somehow the security personnel only checked people that looked like students, even though the place was rife with families with children, pensioners and truckers.)
(Screenshot: Vox)