Blinded by false research about meat eaters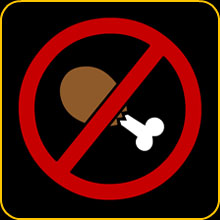 Professor Diederik Stapel from the University of Tilburg was recently suspended for making up research that the media actually took seriously and wrote about. The university is apparently looking into his previous 'research'.
His latest nonsense that hit the papers was that meat eaters are more ill-mannered (aggressive, selfish, asocial, you know) than vegetarians. Professor Roos Vonk of the Radboud University in Nijmegen ran with this story and got nailed for doing so, once the media figured out it was made up. She claimed that she never thought for a moment that it could be false. Vonk explained that her expectations were that vegetarians were more empathic towards others than meat eaters, which turns out is 100% pure crapola. Vonk used to chair the animal activitst group Wakker Dier and is a member of the Party for the Animals. Call me crazy, but I suspect she's a vegetarian.
She candidly admitted to have been stupid about trusting this research as she did have some doubts about Stapel's methods. Human behaviour has shown throughout history that people believe what sounds good to them all the time.
And if Vonk truly believes that meat eaters are douche bags, she'll want to buy into any nonsense that says what she would like to think could be true, making her vulnerable and gullible. You could argue that by not eating meat you're doing a good thing, but placing yourself above others for that reason makes you a douche bag and in this case, a blinded, crappy scientist. It insults the intelligent, open-minded vegetarians and vegans out there that are not douche bags, for starters.
Oh and if you need to believe that your lifestyle choices are better by denigrating others, you're also a douche bag.
UPDATE: Vonk eats meat sometimes, albeit organic. She admitted on Dutch telly that if the research had shown the opposite or that it didn't matter what people ate, she wouldn't have bothered with it. She also thinks meat eaters have a superiority complex, while she's in fact the one thinking she's a superior douche bag.
(Link: www.gelderlander.nl, Photo: veggieunwrapped.com)
3 Comments »
[…] effects of the vegetarian pseudo-scientific smear campaign against meat eaters keep spreading like an oil spill. Professor Roos Vonk (pronounced Rose Vonk) from the Radboud […]

Pingback by 24 oranges » Nijmegen University censors own press about meat-eater-gate — September 22, 2011 @ 8:39 am

[…] Last year professor Diederik Stapel from the University of Tilburg was suspended for making up pro-vegetarian research. […]

Pingback by 24 oranges » Another Dutch professor caught in scientific fraud case — June 25, 2012 @ 2:55 pm

[…] 'Professor' Diederik Stapel from the University of Tilburg was suspended for making up pro-vegetarian research, which other 'Professors' bought into hook, line and sinker, like a professional […]

Pingback by 24 oranges » Dutch professor's fake research keeps piling up — November 7, 2012 @ 1:22 pm