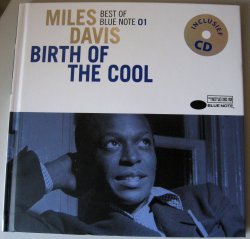 Twenty years ago today jazz legend Miles Davis died, leaving a trail of trumpet clad jazz music that is still highly appreciated today by die hard jazz fans and new generations of fans. Most of us probably own Kind of Blue, or have heard of it. My dad played it all the time — on vinyl.
However, a few Dutch music critics were not amused when NRC newspaper came out with a free book about Miles containing a free CD re-issue of Birth of The Cool, originally released on Capitol in 1957. And that's where the commotion started: according to music critic Gijsbert Kamer who writes for De Volkskrant, the Birth of The Cool is not a Blue Note label recording and the NRC should not have implied that it is. But he's technically wrong: the CD re-issue offered in the book is from EMI who owns Blue Note, making the CD a Blue Note record today, whether we like that or not. Even the book says that the album was released on Capitol in 1957.
The NRC has to quote Blue Note on the CD because that's who owns the rights today to that record. It's up to the reader to figure out when and where the record was originally recorded, if they even care. A newspaper gives away a free book with a free newspaper: score! If people want to know more about Miles, it's up to them.
Then it gets more amusing: Kamer either ignored, chose to ignore or didn't know that his own employer, De Volkskrant put out a box set by American jazz sound engineer Rudy van Gelder in 2006 with — you guessed it — a Blue Note packaging, including Birth of The Cool.
Problem is, Rudy van Gelder never originally produced Birth of The Cool, he was only involved in the re-issue, which is the one both newspapers are peddling, although NRC never mentions Rudy van Gelder anywhere. In other words, De Volkskrant critized the NRC of parading the CD as a Blue Note CD (which it is today), while they themselves did the exact same and also got the producer wrong.
Birth of The Cool was "originally released as singles, eight of the tracks were compiled in 1953 on a 10″ vinyl album in Capitol's Classics in Jazz series, and Birth of the Cool was released in 1957 as a 12" LP that added the remaining three unreleased instrumental pieces ("Move", "Budo" and "Boplicity"). The final track, "Darn That Dream" was included with the other eleven on a 1971 LP. Subsequent releases have been based on this last arrangement."
So Birth of The Cool changed, grew and got remastered over the years.
Let's listen to Miles playing in Amsterdam in 1957 and move on, shall we?
Tags: Blue Note, Miles Davis