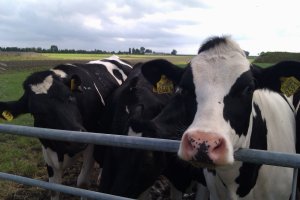 The world's first 'floating dairy farm' will open its doors in Rotterdam's Merwehaven port this year, built by Dutch property company Beladon. It will feature 40 Meuse-Rhine-Issel cows (brown spotted, so not the Frisian cows in the picture), milked by robots.
The sustainability idea behind the project is that there is less and less good ground to produce food, while the world population continues to grow and demand more from their food. Built-up urban areas don't exactly seem like the most sensible places to run farms, but reducing the distance food travels before it reaches consumers' plates makes environmental sense as it reduces transport pollution.
The Floating Farm intends to produce fresh milk and healthy products, as well as provide tours, education and research.
(Links: bbc.com, floatingfarm.nl)