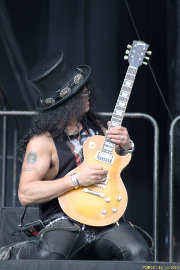 A musical instrument shop in Groningen, a city some call the real rock city of the Netherlands (surely a bone of contention with the people of Eindhoven), is looking for someone, male or female, to sell guitars.
They proudly tell us in their advert that their main clientele are rockers, you know, the kind of people who wear black concert shirts, have piercings and tattoos, and favour loud rock music. The shop called Tonika Music wants the ideal candidate to really look like they enjoy selling guitars, have the right qualifications, be convincing, and all the stuff you would expect from a good salesperson, but not have anything in common with the average rocker. They also mention no beards and mustaches, which potential female candidates read as not really wanting women either, but are too daft to say out loud for fear of discriminating!
Blatantly discriminating against people, which goes against Dutch law, the shop will refuse candidates with piercings, visible tattoos, 'wild hair' or a predilection for the rock 'n' roll lifestyle. You shouldn't be a smoker, which they consider as being 'rock 'n' roll' in a negative way and ideally you should still play in a band and understand musicians. I am sure there are people that fit this description and want to work there, but I'm more worried about the drop in sales that is soon to follow.
A keyboard player on Facebook said it best: "The dumbest sales tactic there is, is valuing your opinion more than you value your clients' opinion. Luckily, clients are able to discriminate and take their business elsewhere." The company, currently being trashed on Facebook, has removed their advert, which pretty much proves how stupid they've been. People have offered to help them with their PR and give them social media classes. Insulting your clientele has to be the dumbest crisis move ever.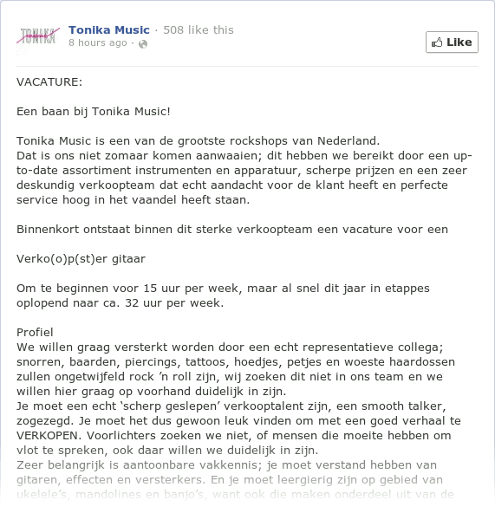 (Photo of Slash, top, by Florex007, some rights reserved. Bottom: partial screenshot of the offending advert via Facebook)