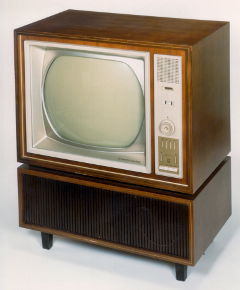 A few years back, we had going to church naked and naked fitness, and now it's time for a naked game show on television, with words and balls.
The Dutch game show Lingo, based on an American game show, has been a household viewing staple for decades. It features guessing words of a certain length and unscrambling longer words. Winning a round entitles you to pick balls with numbers to be checked off a bingo card, hence the name.
Lingo is auditioning nudists for a special naked version of the television program. First thing the producers make clear is that participants won't be chosen based on what they look like, which in TV land has to be partially untrue. And the popular game show host Lucille Werner says she will join in by taking it all off. The show is scheduled to air on May 2014.
Back in 2011 this episode of Lingo went viral, as a smart guy used the word 'cumshot' and everyone had a good laugh.
(Link: www.nieuws.nl, Photo of the first Philips colour TV from 1964 by Philips, used with permission)