Ruben van der Vleuten, a Dutch student at the Copenhagen Institute of Interaction Design, wanted to see what happened to a parcel once it disappeared into the bowels of the Danish postal system.
He then made a parcel with a hidden camera in it and sent it through the mail repeatedly until he got a video that had the camera facing the right way all the time.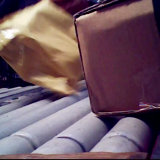 Van der Vleuten explains on his website: "The timer circuit was set to make a three-second video every minute and make longer videos while the box was moving, so as to not miss the 'interesting' parts." There's circuit board porn and technical explanations there and at the Vimeo page.
All that circuitry made the package look suspect. In an interview with Fast Company the designer admits that this had crossed his mind:
The second was based on the pics that showed the open box; that thing really, really looks like a homemade bomb (if homemade bombs look like they do in the movies). "To be honest this was my biggest concern as well," Van der Vleuten admits. He included a note explaining that this was part of a student project with no criminal intent, but regardless, "Every time, I was bringing it to the post office with sweaty hands."
(Link: Bright. Photo: crop of a still of the video)