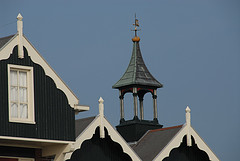 A painting by French neo-impressionist Paul Signac and estimated to be worth 100,000 euro has been discovered in Hotel Spaander in Volendam, spokes person Marcel Rutten confirmed to AD yesterday.
The painting was a payment for the painter's stay at the hotel in 1894. Hotel Spaander has a collection of about 1,400 paintings. It billed itself as a painter's hotel back in the day, still does, and apparently it was not uncommon that residing artists paid their bills with their art. The Signac's value though was unknown to management, which estimates that this is the best paid bill in its history.
The Signac representing a view of the harbour used to hang off a rusty nail in the lobby. Artists who wish to stay at the hotel can still do so in exchange for paintings, as long as the subject is Volendam, according to RTL Nieuws.
Signac was a contemporary of Vincent van Gogh, with whom he corresponded.
The painting's true value was discovered during the preparations of an exhibition of the hotel's art for the Zuiderzeemuseum in Enkhuizen.
(Photo of the roof of Hotel Spaander by Flickr user FaceMePLS, some rights reserved)