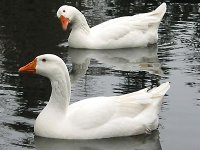 In the village of Sint Willebrord, North Brabant, people were illegally producing XTC in a large lab in some warehouse, making barrels of cash while keeping their activities on the down low.
Then, one day the cops came knocking on the lab door because they heard a goose honking like the end of the world was coming, on the train tracks near their secret lab.
The goose was a regular at the neighbour's property, but possibly didn't like the weird noises it heard and when it heard them, started honking like crazy, waking up the neighbour in the middle of the night. The neighbour then woke up to see a suspicious van making several runs in the night, put two and two together and figured out drugs were being produced.
The neighbour then told the police what she saw, and that's when the cops went to check it all out.
The cops arrested the 70-year-old owner who claimed to know nothing, saying he rented the warehouse to some guys who paid him cash up front and refused to let him see what they were doing. The owner's lawyer attacked the woman's claim, saying 'she honks as loud as the goose does', but stick and stones, the man is looking at three years in prison.
The cops had a good day, seizing 1.2 million euro worth of raw materials for producing XTC pills. They said the whole place smelled of anise, a characteristic smell of synthetic drugs. The theory is that the goose wasn't honking over noise, but about the smell of anise, which attracted it, if we believe the Internet. And since the drugs were made at night, the smell was then at its strongest.
The moral of this story is that the cops were not sent on a wild goose chase.
(Link: vice.com)