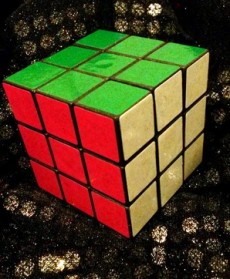 Designed by Dutchman Oskar van Deventer, the world's largest Rubik's Cube, known as the Over The Top 17x17x17, was solved last November by American Kenneth Brandon.
Besides solving puzzles, Brandon also shoots time-lapse videos and made a six minute one of his solution here below. He also mentions that he has a 7.5 hour version floating around for his hardcore fans.
The Guinness World Records awarded the 'largest order Rubik's magic cube' to the 17×17×17 cube made by Van Deventer in 2011. Van Deventer has all kinds of puzzles for sale, made with 3D printing technology.
(Link: www.waarmaarraar.nl, Photo: Rubik's Cube knockoff)