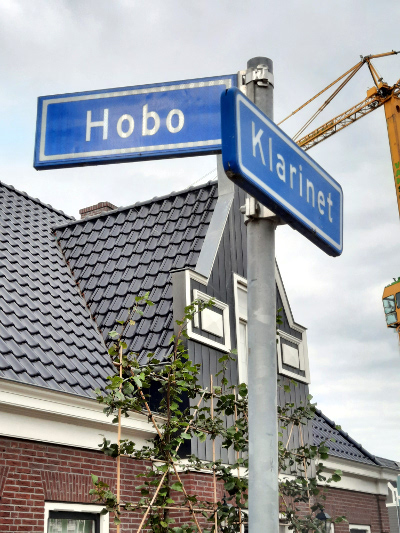 In 2018 the city of Zaandam, North Holland was dealing with a tempest in a teacup: a street called 'Hobo' ('Oboe') was turned into 'Piccolo' because folks said it sounded too much like 'homo', which is a homophobic slur, the equivalent of 'faggot'. 'Folks said' is not very clear, but city hall picked up on the discontent of some and decided to change instruments.
However, in 2019 the city went back on its decision, saying that it was hard to claim to be a 'rainbow city' (LGBTQIA-friendly) if they cater to the whims of a few people who didn't like a street named after a musical instrument. Other Dutch cities have Hobo streets and that was never a problem. And just having a rainbow crosswalk is not enough these days to be truly LGBTQIA-friendly.
I went to Zaandam recently to see what the fuss had been all about. One very nice typical blue Zaandam-style house had a sign on the door that said "Hobo 14, former Piccolo 14", which seemed to be for any kind of deliveries. Hobo street is barely a few hundred metres long. And why would I use another slur, 'faggot', to make my point? That's because parallel to Hobo, there's 'Fagot' street, which means 'Bassoon' in Dutch and nobody had a problem with that.
(Link: hartvannederland.nl)