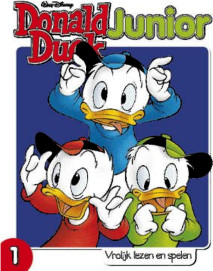 The prejudice that comics are for people who don't like to read books gained a new dimension this week with the launch of Donald Duck Junior magazine. NRC quotes Sanoma publisher Suzanne Schouten (Dutch): "The age at which children start with Donald Duck [magazine] went from 6 to 8 years old in the last few years. The magazine turns out to be too difficult for many 6 and 7 year olds. Children read less these days. That's why we wanted to develop a magazine that is much simpler and with which children learn to read while having fun."
As daily NRC puts it, Junior has "less text, bigger balloons, and simpler puzzles." I took a quick look at the magazine in the super market today, and noticed that numbers were spelled with digits, and were emphasized. Also, the text mostly used short words, single or double syllable.
Image: SanomaCrossing.
Tags: children, Donald Duck, reading