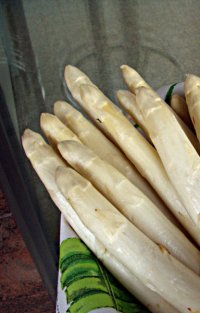 It's asparagus season. North Limburgers like me respond to asparagus the same way hobbits respond to mushrooms. Actually we respond the same way to mushrooms too: asparagus and mushrooms are our regional specialty.
We grow and eat asparagus stems white though. To keep the stems white, they need to be kept away from sunlight, and therefore they are grown in raised beds. Then, starting around April 15, temp workers walk between the beds from the break of dawn till noon, spying for cracks in the flattened tops of the beds that signify the tip of an asparagus plant trying to break through.
Once they spot the rebel plant, the workers dig through the side of the bed until they reach the stem and then use a long, spatula-shaped knife to cut the stem at the bottom. The stem is taken out and the hole filled up again.
The stems dry out quickly so the sooner you cook them the better. White asparagus has a delicate taste that is typically brought out with ham, egg, melted butter, but it can be combined with many other ingredients. Serve with cold, white wine.
Today I ate:
Asparagus Cocktail Willem Alexander
This apetizer was invented by chef Herman van Ham of restaurant De Hamert in Arcen, just North of Venlo. He named it in honour of the Dutch crown prince.