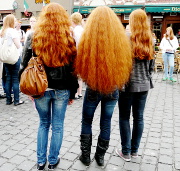 The biggest gathering of red heads in the world took place in Breda yesterday, netting the city on Noord-Brabant a fresh mention in the Guinness Book of Records.
Some 5,000 gingers from over 60 countries descended upon the city for its annual Red Head Day. To break the old record of most natural red heads gathered in a single enclosed space, Breda had to collect more than 892 of them. In the end 1,255 red haired people did the job. The old record was established in 2010.
Brabant's cities seem to like these record attempts. In 2007 Tilburg set the world fire breathing record, and later that same Breda set the record for cola fountains.
RTL Nieuws has a couple of photos of the event.
(Link: De Stentor. Photo of last years visitors by Eddy Van 3000, some rights reserved)