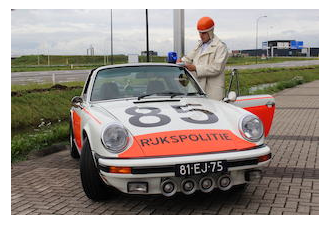 On 9 October a 1974 Porsche 911 Targa will be up for grabs to the highest bidder at Bonhams' Zoute sale in Belgium (and not the Netherlands, as the source claims). The classic car used to belong to the Algemene Verkeersdienst (AVD – traffic cops) and was one of the few European states to use the Porsche for motorway patrol. They also had their own uniforms, white instead of the usual blue and orange helmets (see short photo session video).
According to Autoweek, before the Targa model was available, the AVD used Porsche 356 cabrios, but the 911 Targas remained in use through 1993 when the unit switched to Volvos. The AVD preferred the Targa model to the 911 coupe as it allowed for a greater range of visibility and officer passengers could stand in the car to give traffic directions in emergencies or while moving slowly.
This car was restored with as many original parts as possible and is known as 'Alex 12:85'. It is expected to fetch between €98,000 and $143,000.
(Link: autoweek.com, Photo: Bonhams)