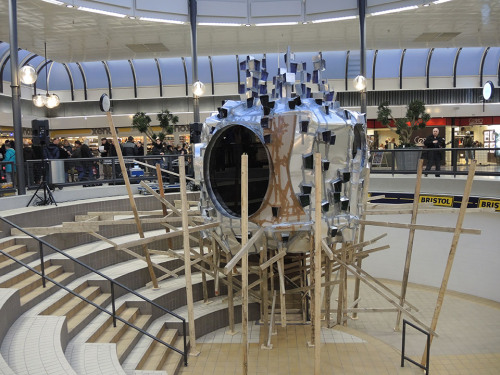 Dutch artist Rob Voerman has set up a silver space module artwork called 'Into the Grid' in the oldest shopping mall of the Netherlands and Europe, Presikhaaf in Arnhem, which is 50 years old this year. Presikhaaf was once a prize-winning bit of architecture, but is now semi-vacant.
Last week saw the big opening of Into the Grid with Bas Bron, member of Dutch electro group De Jeugd van Tegenwoordig and a whole bunch of children with silver coloured cardboard boxes as robot outfits.
The interactive artwork was commissioned by curator and founder Claudia Schouten of Motel Spatie A.I.R., which holds lectures about 'engaged autonomy' and urbanism.
(Links: 5uur.wordpress.com, www.motelspatie.nl, Photo 5uur.wordpress.com)