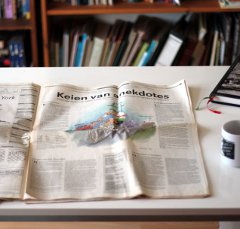 Last Thursday, the Dutch national library opened its repository of digitized Dutch newspapers from the period 1618 to 1995.
So far the library has digitized 1 million pages from 70 papers, which can be viewed at http://kranten.kb.nl. It plans on scanning 7 million more in the next two years in order to cover 5% of all newspapers ever printed in the Netherlands.
For the occasion, the oldest copy of a Dutch newspaper in existance, Courante uyt Italien, Duytslandt &c, is on display at the library, on loan from the Royal Library of Sweden. The name, meaning "'currents' from Italy, Germany, etc." stuck around, and now courant—krant in its modern spelling—is the word for newspaper in Dutch.
The Dutch national library is not the first with an online newspaper archive, and there are some genuinely cool archives out there such as the Australian one that lets you proofread OCRed texts (much like Wikipedia). The range of the Dutch archive is actually impressive.