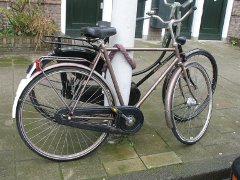 First the media complained about how dangerous it looked, with opinions ranging from 'completely bonkers' and 'sign this petition', which have now turned into 'yeah, but don't be in a rush' (video) and 'hey, it actually works for 39,000 commuters a day'.
After a major redesign of the space behind Amsterdam Central Station, where the many ferries take commuters across the IJ river to Amsterdam-Noord, cyclists and pedestrians need to navigate a sea of each other in a no-traffic-rules-figure-it-out-among-yourselves zone. The idea is that a shared space avoids using traffic lights, and if it had been a total disaster full of accidents, the city would have changed it, but now the shared space is deemed successful.
People coming off ferries on bikes and scooters are definitely to be avoided as a pedestrian, then again, if I'm in their way, it's up to them to go around me. I've actually been there on roller skates at night and that went well. According to Het Parool newspaper, in three months, there has been one 'incident' where a cyclist hit a scooter and got back on their bike and buzzed off. They say that cyclists are a bit less aggressive and more polite to pedestrians there as well, and all the naysayers, including us, although we kept it down the pub, have been proven wrong.
Have a look at this time-lapse video and see for yourselves:
Timelapse van de shared space bij Centraal Station from Gemeente Amsterdam on Vimeo.
(Links: www.parool.nl, citinerary.net)
Tags: Amsterdam, Amsterdam Central Station, bikes, cycling, pedestrians, shared space