Toronto adopts Dutch 'woonerf' street design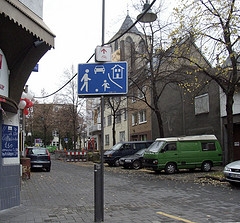 Woonerfs are streets where the boundaries between the areas for drivers, cyclists and pedestrians have been eradicated on purpose, making them true shared spaces; and Toronto wants one.
Waterfront Toronto said yesterday that, thanks to CAN$ 5.3 million from Ottawa [federal government], it will turn the one-hectare stretch of city and provincially owned land [near the Don Valley Parkway on/off ramps ] into a park, complete with ball hockey and basketball courts, community gardens, 'ribbon' benches and climbing structures for children.

Waterfront Toronto also attempted yesterday to slip a Dutch word into the local vernacular, promising to build "woonerf" to bisect the new residential buildings north of Underpass Park. Designers say "woonerf" are streets, popular in Holland, that are cobbled in pavers. Woonerf do not have sidewalks or lines painted on them, and favour pedestrians and cyclists over cars.
Typical woonerfs have a speed limit for motorized vehicles that approaches regular walking speed (though the Dutch supreme court has upped this to 15 kilometres per hour). The idea is to make car drivers realize they are guests in an area where children may play on the street.
Livablestreets.coms has this to say about the woonerf definition:
The five primary criteria for a woonerf, as outlined by Donald Appleyard in his 1981 book Livable Streets, include gateways that announce that one has entered the woonerf; curves to slow vehicle traffic; amenities such as trees and play equipment that serve the dual purpose of forcing vehicles to slow down; no curbs; and intermittent parking so that cars do not form a wall of steel between the roadway and houses.
Woonerf literally means 'living space,' and is pronounced woan-erf.
(Photo by Payton Chung, some rights reserved)
3 Comments »
[…] 24 oranges » Toronto adopts Dutch 'woonerf' street design. Share and Enjoy: […]

Pingback by KafeKafe » Toronto Adopts Dutch 'woonerf' Street Design — March 29, 2010 @ 7:15 pm

I've shared this post with the local bicycle group in my town in Vermont. Also related to your post — Policy Statement to reflect the US Department of Transportation's "support for the development of fully integrated active transportation networks. The establishment of well-connected walking and bicycling networks is an important component for livable communities, and their design should be a part of Federal-aid project developments."

http://www.fhwa.dot.gov/environment/bikeped/policy_accom.htm

Comment by Jay Vos — March 30, 2010 @ 7:46 pm

[…] was probably the first Canadian city back in 2010 to build a Dutch-style 'woonerf', streets where the boundaries between the areas for drivers, cyclists and pedestrians have removed, […]

Pingback by 24 oranges » Canadian cities are adopting the Dutch woonerf — September 12, 2013 @ 9:37 am