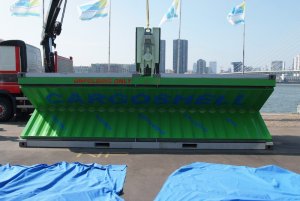 Rotterdam businessman Rene Giesbers dreamed up, helped design and launched an innovative container concept called Cargoshell, a fully foldable container made from composite that significantly reduces the amount of space empty containers take up on ships and trains. In fact, acccording to the report on Dutch television (RTL 4) yesterday, some 20% of all containers on ships and some 30% of all containers on trucks are just 'empties' requiring much fuel to transport. According to a Dutch article earlier this year, some 20 billion euro is lost every year just transporting empty containers.
When the Cargoshell is folded, it takes up 25% of its actual size. It can be folded by one person and a forklift in just 30 seconds.
The Dutch often use foldable and obviously re-usable shopping crates, which I had never seen in North America, that look like this: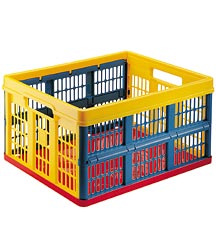 This crate was what inspired Giesbers to do the same for containers.
Sometimes innovation is really just staring at us in the face.
(Photo: cargoshell.com)