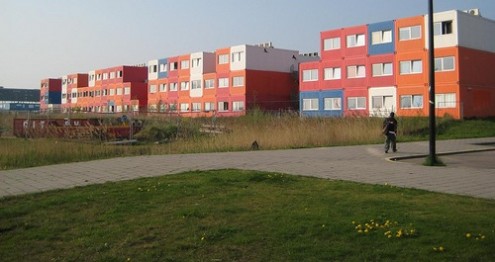 Airbnb, the rent-out-your-place chain that local politician for housing Laurens Ivens keep saying he'll teach them a lesson, but constantly fails to do so (in Dutch) (and then goes on Twitter and blames foreigners), always makes the news in a bad way. For starters, people who rent through airbnb are supposed to rent for no more than 30 days, but Ivens has done nothing to make that concrete, and so places end up being rented for a total of 60 days and that now includes sea containers because nobody checks but the tourists being duped.
In Amsterdam, two illegally placed sea containers on the side of the road were casually put up for rent in the Spaarndammerstraat and Pauwenpad, downtown Amsterdam. The containers had some beds on the floor and that's it. The ridiculous offer was pointed out by Dutch Twitter account Pretpark Amsterdam (Pretpark means amusement park), a group that campaigns against the negative effects of tourism in the city.
"Employees of the municipality of Amsterdam dragged the 'hotel' away on Sunday morning. After complaints from local residents, it turned out that the city district had not issued a permit for placing a container."
According to Statistic Netherlands, the city of Amsterdam has 863.202 residents as of 1st January 2019, and will surpass its highest amount of residents in its history soon enough, if that's not already the case. Sadly, this means that all kinds of people will try and trick tourists out of money and that Ivens will continue to be shocked about it, sympathise, and proceed to do nothing but talk and blame foreigners like the novice bigots that his socialist party is aspiring to be.
(Link: .tellerreport.com, Photo: containers that students actually live in, in Amsterdam North)