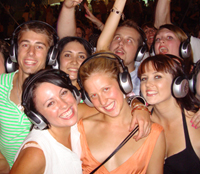 The Silent Disco from the Netherlands is slowly making its way around the world. It started as an attraction at the Dutch travelling theatre show called 'de Parade' and now it's going to be featured in London for the very first time. On 10 September they'll be another first: Silent Disco at a live concert. The Fun Lovin' Criminals are going to play for people wearing wireless headphones – no speakers. The first 650 tickets are being given away via Facebook.
Also performing will be Dirty Pretty Things, Mystery Jets and Supergrass.
I went to the Amsterdam Parade once and watched the Silent Disco as it was on an open dance floor outside. It's strange to see people dance, but not hear any music. It was definitely one of the most interesting attractions I'd had seen.
(Link: bright.nl, photo: odemagazine)