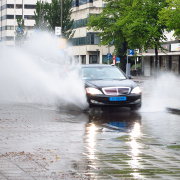 Young men from the countryside are the worst drivers, according to Spitsnieuws.
This is why they have been taking supplementary driving lessons in droves, according to the online paper. Last year 12,000 Dutch youths participated in a program called 'Trials' in which they were taught how to perform emergency stops, how to control a skid and how to drive trucks. This is up from 10,000 in 2011. The program is run by several insurers who give successful participants a no claim discount.
Participation in the one-day programme costs 60 euro and is open for 18-28 year-olds from the provinces of Groningen, Friesland, Drenthe, Overijssel, Zeeland and Flevoland.
The Verbond van Verzekeraars (Association of Insurers) claims that the number of accidents with damage was 25% lower for participants than it was for people who did not participate.
Some figures:
At age 18 one can get a drivers license in the Netherlands.
510,000 Dutch people of age 27 or under drive a car.
The risk for people aged 18-24 to be in a car accident is 4 times that of people aged 30-59.
People under the age of 27 are involved in 76,000 car accidents each year.
(Note that those numbers do not neatly fit together. The number of 31,000 accidents where at least one party was not insured for liability might not have involved a single youth and the lack of insurance might not have been on the side of the guilty party. This story was basically copy written by an insurance company for the main stream media, so take these things with healthy doses of salt.)