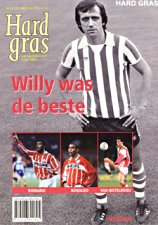 Literary football magazine Hard Gras has dedicated issue 55 (Dutch) to Willy van der Kuijlen, nicknamed Skiete (Shoot) Willy, the legendary PSV forward who only lacked ego. Part of the Cruijff generation that treated the world to its Total Football, Van der Kuijlen was little known across the border because he stayed at PSV for all of his career, and was never called up for the 1974 WC.
Author Rob van der Zanden publishes an excerpt (Dutch) of the issue in today's Algemeen Dagblad. He discusses the innocent days when PSV hadn't won any major trophies yet, and when the fans perhaps were unaware how good the unassuming Van der Kuijlen actually was. Van der Zanden recalls a notable moment in 1976, when Van der Kuijlen pannaed an Ajax player, turned around, and did it again.
Van der Kuijlen did not finish his career at PSV with a bang, but sort of petered out. Van der Zanden lays some of the blame of Van der Kuijlen's anonymity at the player's feet; being an all-rounder, Skiete Willy would frequently drop back to midfield to help control the game from there, and he never managed to join the Club of Thirty, the elite group of players that scored thirty goals or more in one season. And yet, with his total tally of 311 (20-23-21-21-11-26-14-6-13-27-28-27-24-13-14-12-8-3) Van der Kuijlen is still all-time top-scorer of the Eredivisie.
Even though as leader of the team he had to control the game from mid-field, he never denied himself the chance to steal a goal. Van der Zanden compares his peckishness to that of writer Simon Vinkenoog, who once said: "Even if they invent something that is better than sex, I will continue having it on the side."