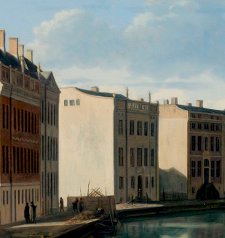 Spice trader Van Eeghen, founded in 1662, has put its Amsterdam office up for rent. According to Parool, the oldest family-owned company of Amsterdam is even considering leaving the city.
Van Eeghen is housed in the Sweedenrijk building on Herengracht 462, smack in the middle of the Golden Bend, an extension of the Herengracht created in 1663. Prospective owners were encouraged to buy double lots, with the result that the city's most affluent would build their little palaces there.
"Nothing lasts for ever," Willem van Eeghen (14th generation) told the paper. Most of the company's activities take place in Canada these days, and only 20 people work at the Amsterdam office. The first two floors are now for rent for 250 euro per square metre, per year, which I am guessing is a steal for that location. If the right offer comes along, the company will even consider moving out altogether.
Perhaps the neighbourhood isn't what it used to be. To the right of Van Eeghen is lawyer Bram Moscowicz, whose nickname is 'maffiamaatje' (mob buddy), and two doors to the left is a subsidiary of internet mogul Yahoo, supplier of dissidents to torture chambers since 2005.
According to Wikipedia, the oldest still existing company in the Netherlands is Brand (beer, 1340), although that example neatly displays the major flaw of that list: these days Brand is merely—nomen est omen—a brand of Heineken's.
The image is a detail of Berckheyde's famous De Bocht van de Herengracht, painted in 1671. Sweedenrijk is in the middle of the frame, with Moscowicz' slither attached to it. As you can see, the lot to the left was still unoccupied that year.