Berckheyde's Golden Bend painting claimed by US bank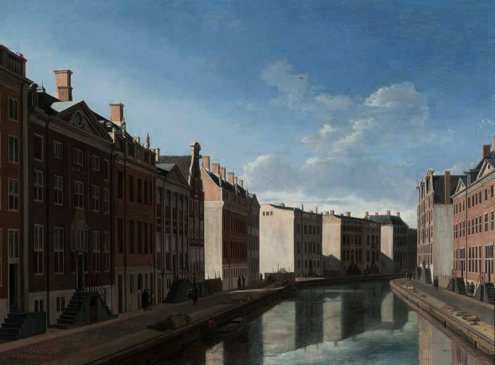 The US bank JPMorgan Chase claims to be the rightful owner of De bocht van de Herengracht (around 1672) by Gerrit Adriaensz Berckheyde, writes Volkskrant (Dutch). The Rijksmuseum, which currently has the painting, bought the work in October of last year from one Louis Reijtenbagh, who has since gotten into financial troubles. The bank claims Reijtenbagh never should have sold the painting in the first place, as he had been using it as collateral for a loan.
On April 1, JPMorgan Chase claimed the entire art collection of Reijtenbagh which contains Rembrandts, Monets, Picassos and so on. The location of many of these paintings is apparently unknown, but Berckheyde's painting of what later was to be known as the Golden Bend, where Amsterdam's wealthiest citizens used to live, is currently at display at the National Gallery museum in Washington.
Note by the way that Volkskrant and De Telegraaf show two different pictures, and the Rijksmuseum website has a third painting with the same name. For the illustration of this entry I went with the version I liked best, but if you know which picture is the contested one, let us know.