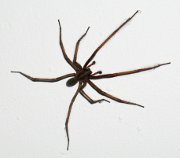 High school students in Zaltbommel got a fright when dozens of spiders came crawling under the doors of the sports facility in which they were having their written graduation tests.
The exams continued uninterrupted, but afterwards at least one student wrote a complaint to LAKS (the union for secondary education students), which is how we found out. LAKS received a record number of complaints (140,000) from the 200,000 students taking exams this year. The complaints ranged from smelly teachers to difficult exam questions.
Why the spiders wanted to be in the hall is unknown. Trouw doesn't tell.