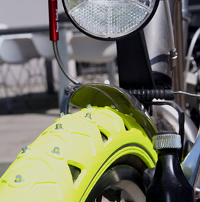 When snow starts falling in the Netherlands, the Dutch often continue to use their bikes to commute even when there's ice on the ground. It's dangerous and there are accidents. It can be done more safely, although this blogger lives in a small town that cannot compare to an Utrecht or Amsterdam as far as bike traffic is concerned, but it's definitely a good primer.
Cesar van Rongen may have found a quick, easy and cheap solution for stubborn Dutch cyclists.
With Cesar van Rongen's Bike Spikes wintry slips and slides are a thing of the past, without having to change tyres. A rubber casing with iron spikes to cover the bicycle tyre gives you grip on icy stretches, and on ordinary asphalt they will still be comfortable. The special winter bike tyre can easily be fixed to any city bike with the little key that comes with it. And when it thaws, the Bike Spikes can be taken off in an instant and folded into a compact little package.
Bike Spikes By Cesar van Rongen from Design Academy Eindhoven on Vimeo.
(Links: www.cesarvanrongen.nl, www.blessthisstuff.com, Photo: Cesar van Rongen)