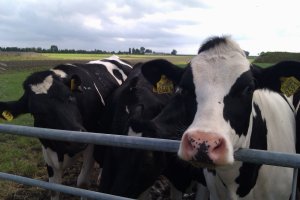 The Swiss have hit back at Dutch vegan activist Nancy Holten who has been living in Switzerland for most of her life by denying her request for a Swiss passport for the second time. The local political party of her canton said no because they feel she "has a big mouth", claiming that cows wearing cowbells was akin to animal cruelty and has been vocal about church bells being rung at 6 am in her village. And she's not a fan of the local tradition of racing piglets, either.
In Switzerland, locals sometimes have a say in the naturalisation requests of people in their canton, and in Holten's case, a majority were against it. Now her request is in front of the 'Conseil d'État', the council that decides on cantonal matters. Dutch site Joop.nl when relating this story told of a family from Kosovo who were refused Swiss nationality because they walked around their village in jogging suits and the locals didn't like that either.
Activism aside, according to Swiss site 24heures, Holten is the ideal candidate and had been given a positive review in the beginning of the process. She's been living in Switzerland for 34 years, speaks the local Swiss German dialect, provides for her three Swiss-born daughters and has never committed a crime. Holten says if her village is not going to let her get a Swiss passport, she'll move down the street to the next village where the decision on naturalisation is made directly by a Board without any input from locals.
In the comments section of 24heures, the opinions range from 'piss off back to the Netherlands' to 'the Swiss pride themselves on direct democracy only when it suits them'. And then not in a jogging suit.
(Link: 24heures.ch)