Dutch activist demands less cowbell in Switzerland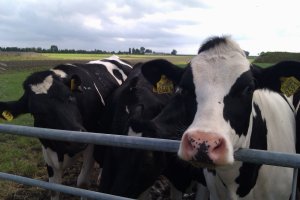 Dutch vegan activist Nancy Holten living in Switzerland has apparently upset the Swiss by claiming that cows wearing cowbells was akin to animal cruelty. The Swiss media was straight up in their answer and told to move back to where she came from if she didn't like their culture. Holten has been widely labelled as a complainer since just before Christmas, she complained about church bells being rung at 6 am – too early in her opinion – in her village.
According to Wikipedia, cowbells have been around since the Iron age and have been used on cattle around the world. However, in September 2014 Swiss researchers did conclude that cowbells are often too loud and too heavy. The problem is that having foreigners complain about your traditions is not always the best way to go, something the Dutch deal with six months out of the year before Sinterklaas.
(Link: frontpage.fok.nl, Photo: Dutch cows sans cowbell)
No Comments »
No comments yet.