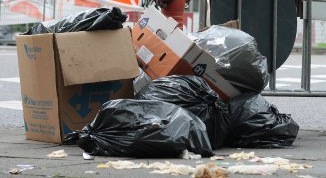 Dutchman Kees Koostra (possibly Jan Kees Koostra) who has been living in Puerto Galera, the Philippines for some time has called his new home town 'Puerto Basura' (roughly 'Puerto Rubbish') after having posted a picture of the local tourist destination White Beach with "uncollected garbage contained in black plastic bags, with worms crawling on them" on Facebook. Appealing to the local authorities to do something about it, they instead decided to black ball him for his concerns, a move that surprised locals and foreigners alike. Koostra is locally active in tourism and environment-related projects.
Since Koostra's post, the shorelines of White Beach have been cleaned up by the municipal government. The Puerto Galera Business and Tourism Entrepreneurs Association (PGBTEA) and other groups also expressed their support for Koostra, saying the decision is unfair. "He is a law-abiding citizen and he was just expressing his constructive comments on the present state of the environment of Puerto Galera."
Koostra has sailed around the world twice in his own yacht. "Out of the 68 countries I travelled, I chose the Philippines to live in permanently. And I chose Puerto Galera to stay," Koostra said.
(Link: manilastandardtoday.com)