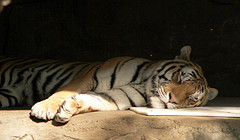 You get invited to an American IT company's opening party in Amsterdam smack downtown with food and drinks. You get there are and guests and playing with two tiger cubs, which makes you feel uncomfortable and you call the animal protection services.
Not only was it morally questionable to have the tigers amusing the guests, but apparently their caregiver didn't have any papers for them, making them illegal to own in this country. On Facebook I've read that the tigers were bought from a bankrupt circus, and if that's true, they should have had some sort of papers, just like anything else the company buys.
An employee of the company tried to diffuse the tiger incident by claiming that their "Manila office finds it to be normal to eat fermented bird fetus known as "Balut", and our Istanbul office eats sheep intestins known as "Kokorec", and our European and American offices eat pig, oysters, and other things that our other offices don't find usual, but we don't judge each other based on these." [all typos left in]
Since when does an American company not know anything cultural about the Netherlands? There are thousands of American companies here functioning normally without a circus show at office parties.
(Link: www.parool.nl, Photo of Tiger by ArranET, some rights reserved)