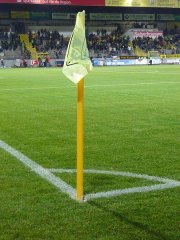 Dutch football striker Jordie van der Laan of Telstar has been sacked for calling in sick to watch Amsterdam Ajax play against Tottenham Spurs on 30 April instead of, well, playing football. Apparently, his dismissal was by 'mutual agreement', which is the sports equivalent of the film industry's 'creative differences' when directors and studio claim to have parted company.
Van der Laan had hoped that his employer would not check up on him, but during the game in which Tottenham lost 0-1, he showed up no less than three times on screen at the game. According to Van der Laan, Telstar's WhatsApp group blew up and they laughed their asses off.
The team's management was not amused and fired him immediately. This was Van der Laan's first year in professional football and was injured quite a lot. Despite his actions, the former Telstar striker is being headhunted by many clubs, and has an interest in playing abroad. "If Tottenham needs a striker, I'm available", he said, "as long as I get time off to watch Ajax play."
Someone needs to explain to this guy what 'having your cake and eating it too' actually means.
(Link: volkskrant.nl, Photo of flag by Wikimedia user Carolus Ludovicus, some rights reserved)