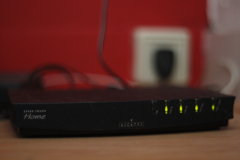 Four years ago I wrote a piece for the Teleread blog called "Consumers won't (multi)play." It told about how telecom providers had lined up all these great packages that combined television, internet access, and telephony. No more hassle with double or triple contracts and bills, just one easy, clean, simple package from a single provider. And the consumer wouldn't have it, for reasons that remained unclear.
Well, it appears that consumers have finally started to make the move towards a single bill, and I have been caught up in the drift. My internet access provider of many years sent me a rather threatening letter, telling me to get with the program or else… The situation there has been rather more convoluted than elsewhere. My provider offered ADSL before the phone company did (former monopolist KPN), and as a result its customers had to have a contract both with the internet provider, and the phone company (which provided the physical lines).
Later the provider somehow acquired the possibility to offer ADSL without forcing the customer to tango with KPN (I don't know why, I presume this has to do with some sort of liberalisation of the phone lines), and now it understandably wants to move all its customers that couldn't be arsed to go the single bill route. So this is the sugar with which they are trying to coax us: "If you don't move, we'll raise the price of your subscription." Naturally, I have been checking out the competition.
Oddly enough, the competition doesn't seem to be too eager to take me on as a new customer.
UPC offers a handy looking tool to select your package with a great promise: they'll pay for the cheapest of the three services. But you don't even have to click around to realize that it's pretty much the price of the internet service you choose that determines the final cost. Still, you have to choose all the premium deluxe services with all the bells and whistles and free champagne and hookers for a year to get at a price that's substantially higher than what you would pay at the competition. Wait, there's some dirt on the screen. Hm, I cannot get it off. Would it be …? Yes, it's the tiny print that informs of all the extra costs that add 50% to your bills for many moons to come.
All this dancing around the do to hide the true costs.
KPN, that good old phone company, also offers triple play, and they also dance around. They've got a couple of special offers lined up right now that make their Basic and Premium package look much better than their Lite package. Well, for the first three months that is. Again, what's with the deception? Why not give everybody the premium service for three months, and the choice to switch back for free after that?
Telegraaf reports (Dutch) that a change in the Telecommunications law last Wednesday no longer allows contracts to be renewed without the customer's explicit consent, and predicts this change is going to cause a price war in the telecom world. Price comparison whizz-kid Ben Woldring tells the paper consumers can save hundreds of euros a year. So far, I have not noticed any participant who seems to take this war seriously.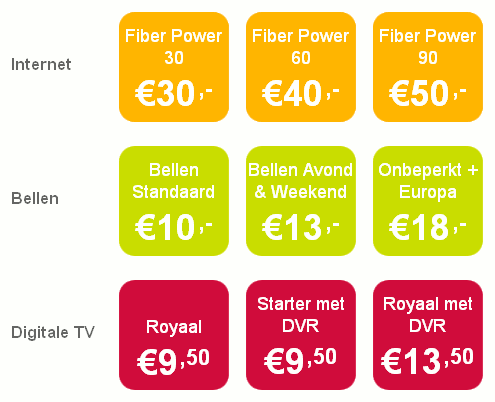 Illustration: UPC's two-out-of-three picker always yields pretty much the same price depending on the internet component you choose.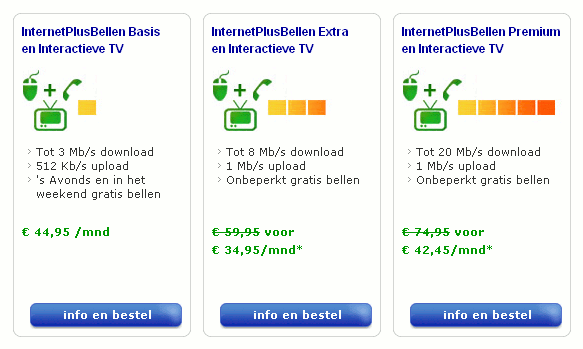 Illustration: If KPN's premium packages are cheaper than their Lite package, why do they offer the latter at all?
Tags: consumers, Internet, KPN, law, multiplay, service, Tele2, telephony, television, triple play, UPC, XS4All