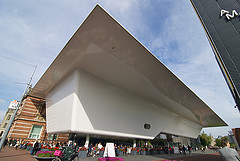 Not only has a man threatened to pee on art from South African artist Marlene Dumas at the Stedelijk Museum in Amsterdam, but he is also a known Dutch artist, Rob van Koningsbruggen, giving this story a hint of sour grapes. In 2012 the Stedelijk Museum had banned Van Koningsbruggen based on an email threat to pee all over the work 'Osama Bin Laden' by Dumas, saying that his stream of urine would greatly improve the painting.
The sad thing is, Van Koningsbruggen had a name for himself in the art world until about 2000 and after that he's been mostly known for his criminal record. Van Koningsbruggen was found guilty of arson in 2007 and got banned from the Stedelijk, where he once had a major solo exhibition back when disco was still a thing.
Van Koningsbruggen went to court over the ban to have it overturned, but it will remain in effect. There was talk of having it overturned recently, which is why Van Koningsbruggen was back in the news.
If you like pee art, there's always Theo from Eindhoven who makes pee eagles.
(Link: www.kunstbeeld.nl, Photo of Stedelijk Museum by chrissam42, some rights reserved)