Artist has been making pee eagles for 16 years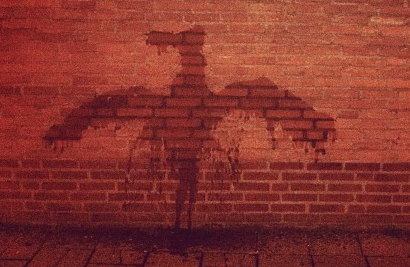 Theo, 32, from Eindhoven has been peeing against buildings for half his life, but does it creatively by making eagles. The art is of course ephemeral and apparently peeing the claws is tough.
Theo says the eagle is a strong symbol, something that reminds him of Germany, while it reminds me and probably others of the United States or Russia. He usually aims (ha pun) to make the German 2 euro coin (the 1 euro has the same eagle), but he says that he is usually drunk and it looks like a peacock or a seagull.
Peeing on walls is illegal in the Netherlands, and Theo got caught once in Tiel. The cop did let him finish because he appreciated the artistic value. Follow Theo's pee eagles on Instagram.
(Link: www.vice.com, Photo: supertheo6000# (Theo) on Instagram)
1 Comment »
[…] If you like pee art, there's always Theo from Eindhoven who makes pee eagles. […]

Pingback by 24 oranges » Stedelijk Museum bans man threatening to pee on art — March 19, 2015 @ 10:12 am