Stolen bike found seven years later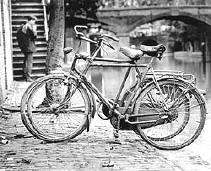 On Monday 12 March, the police in Dordrecht found a bicycle that had been reported stolen seven years ago. The current 17-year-old owner was brought to the police station and claimed she didn't know the bicycle was stolen. She thought it belonged to her mother. The bicycle was spotted near a school without its original bike lock (these locks are usually part of Dutch bikes). The police's computer system had the bicycle down as having been stolen in 2000.
In Amsterdam, some 80,000 bikes are stolen every year.
(Link)
No Comments »
No comments yet.