Cornfield art gets creator arrested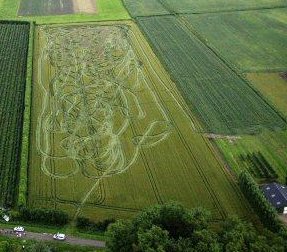 When the police discovered a man from Tilburg driving an SUV through a cornfield near Dussen last week, they tried to stop him, but failed initially. A chase with several vehicles ensued, until almost the entire field was obliterated and the man was apprehended. Turns out the co-creator of this maze was under the influence of cocaine. De Telegraaf has a bigger photo (source of the image: the police of Brabant).
Make of SUV unknown. The driver's license was confiscated on the spot.
No Comments »
No comments yet.