VIP service for Peter Gabriel on Dutch motorway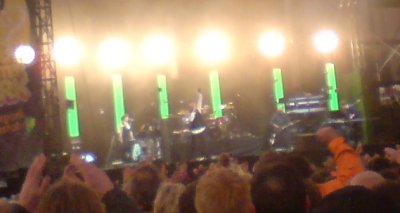 Last Saturday, pop star Peter Gabriel's red double decker tour bus got stuck on the A27 near Lexmond when the motor of the vehicle burst into flames. Peter and friends were en route to a concert in Belgium. The flames went out by themselves and the double decker was towed away. The regional transport company scored them a bus to help them get back on track.
I just happened to see his concert in Amsterdam (last minute invite from a friend, thanks again!) and took a few mobile phone pictures.
(Link: fok.nl)
1 Comment »