Follow detour signs, not your GPS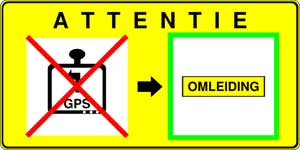 The city of Roermond, Limburg has placed six warning signs telling lorry drivers to follow the detour signs and not their navigation system. Foreign lorry drivers regularly get their vehicles stuck trusting their navigation system, which does not tell them which streets are closed off due to road works on the A73, N280-Oost and N293. These symbols were chosen so that foreigners can understand them. The word 'attentie' looks like the English 'attention' and the Italian 'attenzione'. The word 'omleiding' ('detour') is also used because that is what it says on the actual detour signs.
And so the city has to wait and see if it actually works.
(Link: De Limburger, Gemeente Roermond)
No Comments »
No comments yet.